Gina Sajnani, D.M.D.
Pediatric Dentist in Great Neck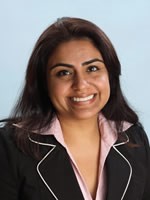 Dr. Gina Sajnani received her D.M.D. degree -- Doctor of Dental Medicine -- from the School of Dental Medicine at the University of Pennsylvania. She also received her Masters in Graduate Education from the University of Pennsylvania. She received her B.A. degree in Sociology and her B.S. degree in Biochemistry at the State University of New York at Stony Brook.
Dr. Sajnani received her specialty training in Pediatric Dentistry at the Lutheran Medical Center in Brooklyn, New York. She has received numerous honors and awards and has taken many leadership roles for the advancement of children and their dental health.
Dr. Sajnani is board certified by the American Board of Pediatric Dentistry and has been in private practice limited to Pediatric Dentistry since 2004.
She is currently a member of the following dental societies:
American Dental Association
Nassau County Dental Society
New York State Dental Association
American Academy of Pediatric Dentistry
New York State Association of Pediatric Dentists
Currently, Dr. Sajnani holds the following appointments and is active in teaching residents at these highly respected medical centers:
Assistant Clinical Attending,
- North Shore University Hospital, Manhasset, New York
Assistant Clinical Attending
- Cohen Children's Medical Center / Long Island Jewish Medical Center, New Hyde Park, New York
Dr. Sajnani is very active with dental education at local elementary school programs in the greater Long Island region.
If you are looking for quality pediatric dental services in Great Neck, call Distinctive Dental Services of New York, P.C. at (516) 207-0897 today to schedule an appointment with Dr. Sajnani!